Alturki Holding Signs MoU to Sponsor 6 Non-profits Under at Misk Global Forum
Nov 10, 2022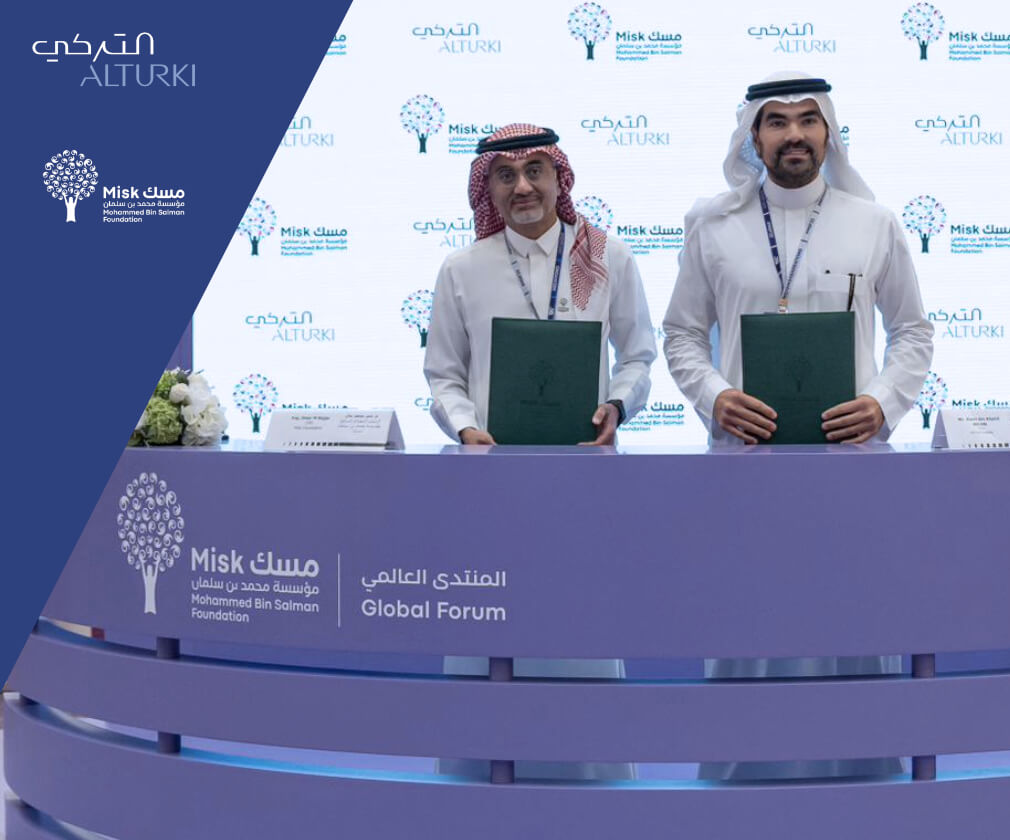 In line with its long-standing commitment to support the development of the local community, Alturki Holding signed an MoU with the Mohammed Bin Salman Foundation "Misk" to sponsor 6 non-profit organizations every year under the Alturki Community Impact Program "Athar".
The signing ceremony was held on the sidelines of Misk Global Forum in the presence of officials and dignitaries from both sides. The agreement was signed by Mr. Rami Alturki, President & CEO of Alturki Holding, while Eng. Omar Alnajjar, Chief Program Officer (CPO) signed it
on behalf of Misk.
Misk Global Forum is the annual event by Misk Foundation that brings together young leaders, creators and thinkers alongside established global innovators to explore, experience and experiment with ways to lead the change. The sixth's edition of the Forum was the largest yet marking the 10th anniversary since Misk was founded. It aimed to encourage inter-generational dialogue under its main theme: "Generation Transformation".
It was held over the course of two days on 9th and 10th November 2022 at King Abdulaziz International Conference Center (KAICC) in Riyadh. The Forum is the largest platform for the youth both regionally and globally, allowing them to exchange ideas. It included a host of exciting activities which encourage creativity and innovation and offered networking opportunities with leading experts form different fields.
Speaking at the signing, Mr. Rami Alturki, President and CEO of Alturki Holding said:
"First of all, I would like to congratulate
His Royal Highness Prince Mohammed bin Salman bin Abdulaziz Al Saud, the Crown Prince on the 10th anniversary of Misk's foundation. His Highness' vision for the future is a true inspiration and a guide for us to contribute to transforming the Kingdom for the better."

He added: "We feel extremely humbled and honored to be able to support these charities under our Athar Program, whose investments are guided by Alturki Holding's Community Impact Framework supporting the achievement of Vison 2030. Youth Empowerment comprises a major focus area for us as we believe that investing in youth is an investment in the future."

Athar Program comes as part of Alturki's Community Impact Framework dedicated to creating and building a positive and sustainable impact in our society. It defines 5 main topics of focus for the Company including: Youth Empowerment, Quality Education, Health and Wellbeing, Sustainable Jobs and Vocational Training.