Inma Steel to add new facility, double manufacturing capacity
Jul 02, 2018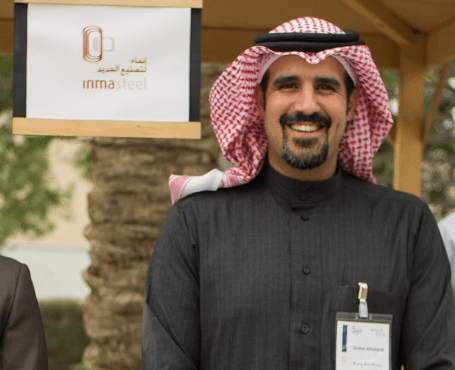 Inma Steel, a wholly-owned subsidiary of Saudi-based Khalid Ali Alturki & Sons (Alturki), which was recently awarded a purchase agreement for pressure vessels by Saudi Aramco as part of its In-Kingdom Total Value Add (IKTVA) program, plans to expand by adding a new manufacturing facility in Jubail industrial area.
The company would soon move to the 65,000 sq m facility, which has been built at a cost of $10 million, says Inma Steel managing director Ibrahim Al Mubarak.
The facility will double the production capacity of Inma Steel, whose current product range includes a wide range of process equipment such as pressure vessels, reactors, distillation/fractionating columns, towers, shell and tube heat exchangers, scrubbers, cyclones, flare stacks and flare tips, silencers, skid-mounted process systems, process tanks, pressure piping, and piping components. Inma Steel has in-house cold plate rolling capacity up to 150 mm thickness and extensive experience in the welding of ferrous and non-ferrous alloys, clad steels, and exotic material.
Since its inception, Inma Steel has successfully executed a number of project orders for notable local and international clients such as Saudi Aramco, Sabic Group, AMEC-BKW, Bechtel, Daelim, Foster Wheeler, Hitachi Zosen, JGC Corporation, Jubail Chevron Phillips, LG Construction, Linde AG, McConnell Dowell, MikroPul Inc, Mitsubishi Heavy Industries, Mitsui Engineering and Shipbuilding, Mustang Tampa, PetroRabigh Refining and Chemicals, Qatar Petrochemicals Co, Qatar Vinyl Chemicals, Saudi Chevron Phillips, Snamprogetti, SNC Lavalin International, Techint International, Technip, Tecnicas Reunidas, Tecnimont, Toyo Engineering, Uhde, US Filters, WesTech, and Worley Parsons.
Services the company undertakes include mechanical repairs, equipment installation and maintenance works, alongside shutdown, turnarounds, and outages.
Regarding the company's plans for the future Al Mubarak says: "We are in the short term looking to manufacture under license niche technologies in the process industry space. Long term, we intend to develop our own technologies, either through acquisitions or development."
"We believe in the government's interest in niche manufacturing and we are actively developing those capabilities. Our new facility is an excellent platform for us to be ambitious and reinvent ourselves following in the footsteps of our country," he says.
On Saudi Vision 2030, he says it is the road map that will take the company to the new frontiers it has always aspired for. Not only addressing the economy and the world of business, it a comprehensive plan that will have a profound impact on society and the environment for a brighter future.
"The Vision addresses our future from different angles, the partnership between the government and the private sector is unprecedented. This will enable us to tap into resources that have never been utilized. Furthermore, recognizing that reform is comprehensive and must address long and short term challenges, it means not only addressing current matters but working to foresee future challenges as well," he says.
He says the company is open to more investment. Inma Steel keeps an eye on the market and remains ready when an opportunity shows itself, says Al Mubarak.
For Inma Steel, 2017 was an excellent year, the company has been able to remain lean and fit for the past few years, which enabled it to be agile and able to withstand the effects of the economic downturn, he says adding: "We will continue doing the same, hiring and training local talent, investing in technology, and establishing strategic partnerships. This approach helped us achieve sustainable growth in the past and we believe it will still do so in the future."