KINGDOM CFO: THE VISION ACHIEVER
Mar 06, 2017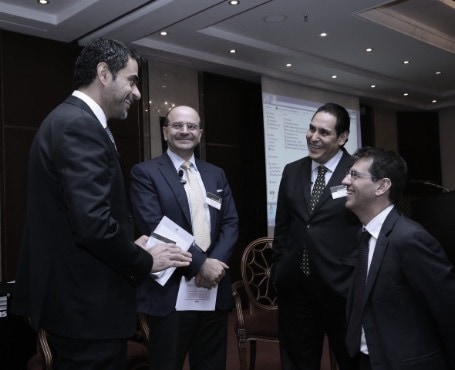 The first ever Kingdom CFO conference kicked off on the 20th and 21st of February 2017 at the Riyadh Marriott Hotel, Saudi Arabia after months of planning the programme's details. Hosted and organized by Marcus Evans, this conference aimed to equip delegates as financial leaders and strive towards accomplishing nothing but the best within the finance world.
The topics discussed on site revolutionised CFO duties by thinking like an achiever and letting the numbers accomplish the vision. Participants discussed on topics ranging from, 'The Impact of New Saudi Company Law', 'The Big Push for IPO', 'VAT implementation' and an Economy Spotlight on 'The Saudi Vision 2030: What it Means to your CFO Agenda'. Enhance your financial reporting methods with an exclusive Technical Helpdesk discussing and analysing the IFRS implementation within the Kingdom.
Speakers on site included Massimiliano Leopardi , Group CFO of Sadara Chemical Company, KSA, Moazam Ali Shah, Group CFO of Al Zamil Industry, Trade & Transport, KSA, Philippe Moschetta, Group CFO & CRO of Al- Muhaidib, KSA and Eyad Ramlawi, Vice President & Chief Strategy and Finance Officer of Al- Turki Holding, KSA to name a few. The first day of the conference had a keynote presentation by Asher Noor who is the Group CFO of Al-Touq Group, KSA and he spoke on the future of finance and was also the marcus evans CFO of the Year 2014 in previous conferences hosted in this series.
Eyad Ramlawi was part of the panel discussion on day one touching on the new laws and regulations of how it would impact the CFO beyond the usual number crunching while another speaker Mallick Kamran who is the CFO of A. Abunayyan Group, KSA had an expert presentation on the trifecta of the three musketeers – CFO, CEOs and CROs for an aligned vision which was a crowd pleaser at the event.
This event also boasted a Half-day Workshop on Company Valuation in Turbulent Times, focusing on how CFOs ensure their numbers are meaningful within their business. These interactive sessions were facilitated by CFOs from leading industries within the GCC.