Musanadah's Operation Director Awarded 'Fellow' by the IWFM
Feb 05, 2023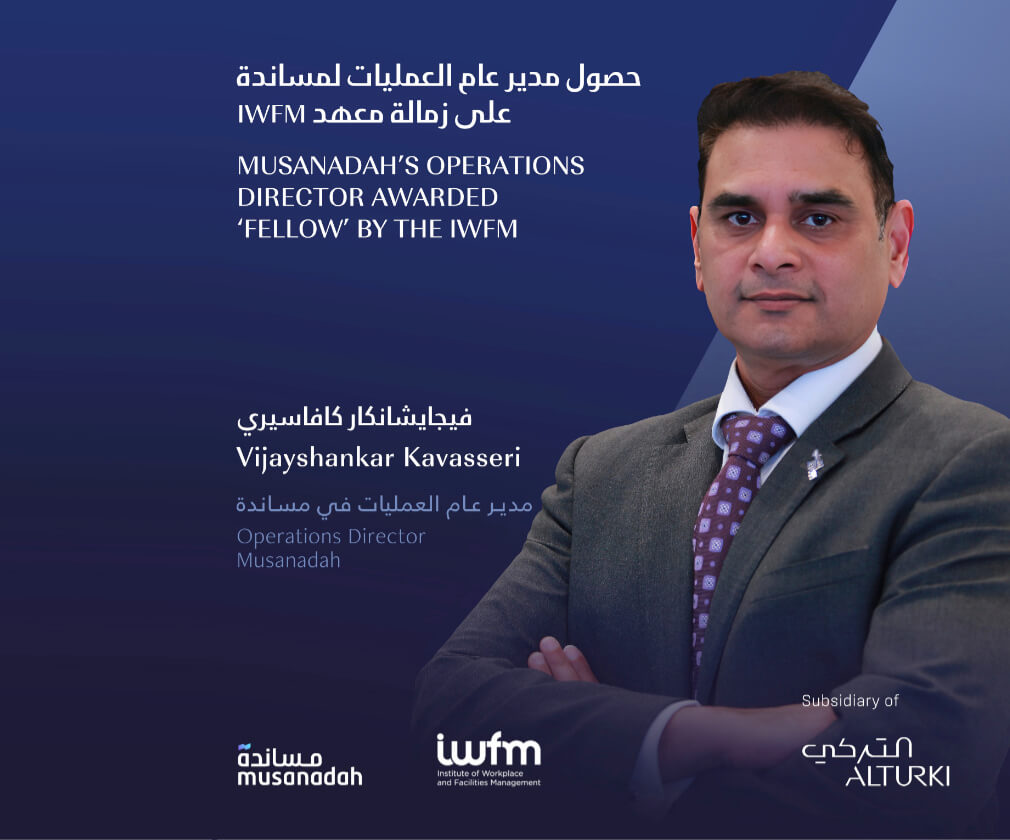 Mr. Vijayshankar Kavasseri, the Operations Director for Musanadah, Alturki Holding's facility management subsidiary, has been awarded a "Fellow", the most prestigious grade given by the Institute of Workplace and Facilities Management (IWFM). The grade has been awarded to less than 200 professionals around the world and even less than 25 across the Middle East region.
Commenting on this achievement, Mr. Vijayshankar Kavasseri, Operations Director at Musanadah said: "I am thrilled to receive the Fellowship from the prestigious Institute of Workplace and Facilities Management. This could not have been obtained without the support of Musanadah."
"On this occasion I would like to thank the management and all the employees at Musanadah, for all their hard work and dedication in supporting the success of the company's strategies. This achievement motivates us to improve the technical aspects of our business further, and to implement our parent company's Saudization initiatives and contribute towards the realization of the Saudi Vision 2030 goals." He added.
Speaking on his future plans, Mr. Kavasseri said: "Giving back through mentoring has been one of my main objectives - which is why I have been playing an active role in the mentoring program by Alturki Holding for over 6 years. It is one of several Saudization initiatives aiming to develop and empower the next generation of young Saudis entering the FM industry, as well as making it the preferred career path and chosen profession for more young people."
The Fellowship grade is a true mark of distinction. It is awarded to individuals who have extensive experience and can clearly demonstrate a sustained or significant contribution to the profession or wider industry. It is granted following a thorough eligibility criteria which includes an external assessment, the submission of an application form in addition to an interview.
Musanadah is committed to maintaining and raising FM standards across the Kingdom by benchmarking to the highest international standards. Having witnessed the evolvement of FM sector over the last decade, Musanadah has consistently expanded its offerings and geographical presence, to support the fast-paced growth of clients from both the public and private sectors and has aimed to enable a healthy living and working environment in KSA.