Ethical Sourcing: our Competitive Advantage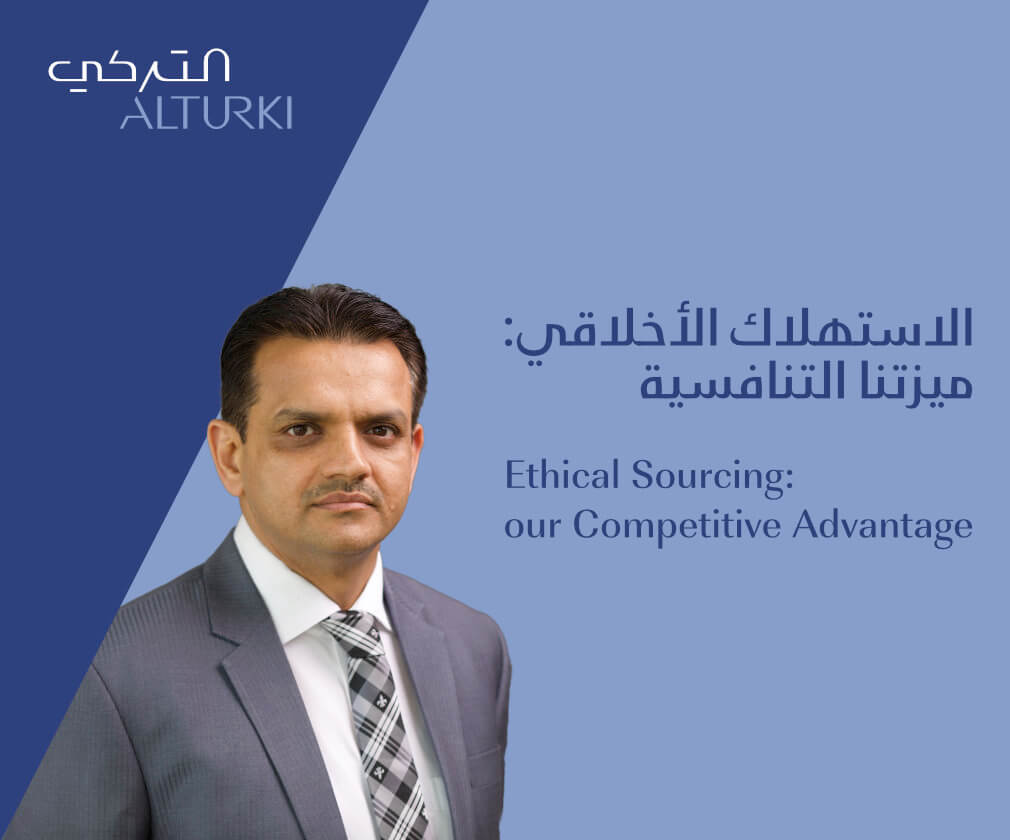 Consumer demand for "ethically sourced" and sustainable products continues to grow across the globe. Zahid Farooq, Director Internal Audit, Alturki Holding Company, discusses what Ethical Sourcing means to Alturki and how it has become one of the company's key competitive advantages. 
Ethical Sourcing, or the process of ensuring that the products or services are obtained through responsible and sustainable methods, includes ensuring that workers are paid a fair wage and that all human rights are met, factories are clean and safe environments for the works, and that all social and environmental aspects of production and their impact on workers and the surrounding communities are taken into account.
"For Alturki ethical sourcing is a large part of our Sustainability Roadmap and it begins with an unswerving commitment by the Shareholders and Board of Directors. We have a clear message from Chairman and Board Members in terms of ethical business standards. We simply have zero tolerance to unethical business practices, and this is communicated throughout the group and is evident in everything we do, including the ethical sourcing of our products and services. These standards are laid out in our Code of Conduct which we monitor and translate in our business dealings with suppliers and customers, and we consider them the responsibility of every single employee from the President to throughout all levels of the companies. Ethical Sourcing is driven by the positive corporate culture we have created at Alturki. We have a deep sense of meaning in our work, we know we are part of something that is bigger than ourselves and this encourages our corporate values and standards to be put into practice every day. This is our differentiator. We do what we say."
"As an example of our values in action, during the COVID-19 Pandemic everyone faced challenges, and of course Alturki was not immune. However, despite the challenges Alturki ensured that even during extended quarantine, safety and wellbeing of the people remained our number one priority. From facilitating effective remote working so that families stayed safe and together, to ensuring payments were received on time, and even to creating a dedicated quarantine center to take care of infected employees whilst easing the huge burden on the country's health system, Alturki continued to practice its unswerving promise to ethical business."
In addition to committees, such as the Alturki Ethics Committee and Health & Safety Committee, that oversee and enforce standards, codes and policies, Alturki ensures that employees have a clean and safe environment to work in and that all Environmental, Social and Governance factors are taken into account in the production of the group of companies' products.
"In any work environment, when leadership models the behaviour and values that they are trying to encourage, this leads to a more positive and ethical work environment. At Alturki our executive team is very hands on in this regard. The President regularly visits all subsidiaries and work sites to witness that our high standards are being upheld and that people and the planet are being protected. We have become a benchmark for sustainability practices in the region and as such are one of the most preferred investment partners, and key to maintaining this reputation is doing what we say we do in regard to ethical business practices."