Sustainability Newsletter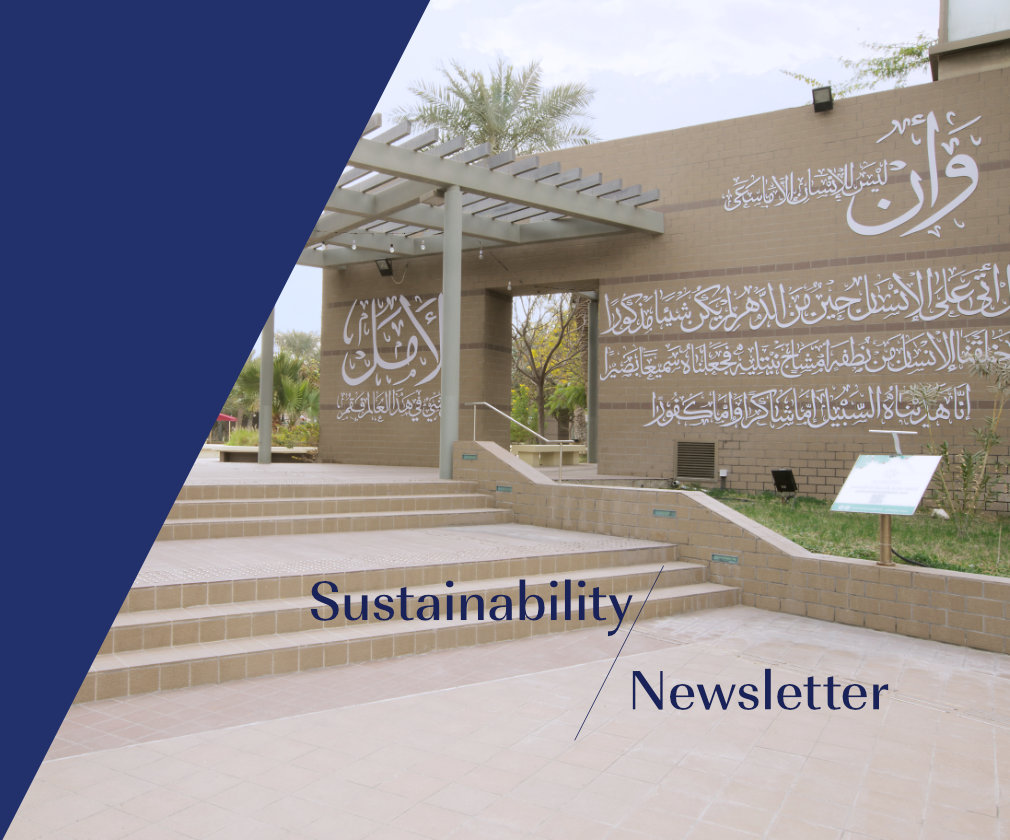 Dhahran Students Plant Trees in the Region's Cities as Part of an Educational Civil Initiative
Middle school students at Dhahran Ahliyya Schools participated in the "A Green Eastern Region" initiative by planting trees in the region's cities and applying the civil rights and duties they have learned. The Eastern Region Municipality has recently announced the initiative that was launched by His Royal Highness, Saud bin Nayef bin Abdulaziz, Governor of the Eastern Region. The initiative aims to familiarize students with their civil rights and responsibilities and link education to community work.
50 students from Dhahran Ahliyya Schools helped plant trees in the region's cities to increase green spaces. The initiative was carried out in partnership with Dhahran Municipality in the presence of Dhahran's mayor, H.E, Eng. Mohammad bin Jassem Al Jassem and several municipality members. This activity was managed by the project's supervisor, Mr. Bilal Abu Saleem, with the help of student's chaperones, Mr. Saleh Al Ali, Mr. Ahmad Al Ahmad, and Mr. Musaed Al Ghwainem, members of the activities' division and Mr. Waleed Al Laithi, project coordinator for the middle school program.
Students planted the first seedlings at Al Dawhah Ash Shamaliyah Park, implementing what they learned in class through a personal and unique experience that embedded the importance of community work in them. The Mayor praised the students for their efforts and expressed his happiness with their enthusiasm and willingness to serve the community. He expressed his admiration for such school activities saying: "these initiatives could foster initiative-taking and create various opportunities for community members to participate in the Kingdom's development in light of Saudi Vision 2030".
The initiative seeks to familiarize the students with their rights and duties towards community work, raise their awareness on the needs of various communities and address such needs through service-learning. It also aims to strengthen students' learning skills through practice and sharing knowledge and opinions with others.
Athletes' Psychological Skills Forum
"Youth-in" organizes an educational forum entitled "Athletes' Psychological Skills Forum" on January 30th, 2020. The forum aims to raise awareness of the importance of psychological and physical skills in the sporting community.
The keynote speaker, Dr. Ahmed Al-Haramlah, moderated the event, which was attended by 29 workers from various sporting fields to discuss the importance of maintaining athletes' mental health and wellbeing by arming them with the necessary skills to do so. The forum highlighted the importance of psychological skills for athletes and how to develop them while shedding light on some of the main reasons why the psychological aspect is often overlooked by athletes and their trainers.
The forum targeted sport club managers, sporting event organizers, and physical education teachers as the groups responsible for raising awareness on the importance of such skills.
Other topics addressed during the forum included the characteristics of a good sporting figure and the impacts a certain type of sporting activity can have on personal attributes like selfishness or cooperation skills, as well as how to deal with excessive anxiety, stress, boredom or confusion resulting from overwhelming instructions.
Supporting Women's Work in the Hotel Sector
Education for Employment has signed a cooperation agreement with Regency hotel to double their efforts to empower Saudi women in the hotel sector and support their career prospects. This initiative is part of both parties' efforts to achieve Saudi Vision 2030 and support the objectives of Hyatt Hotels Corporation's international RiseHY program.
Six young women between the ages of 18 and 24 have already started benefiting from this cooperation through the RiseHY vocational program which trains them to gain the necessary skills and capabilities to work and excel in the hotel and tourism fields. While RiseHY is an international program designed to steer young men and women towards job opportunities in the hospitality sector, the agreement focuses on providing equal job opportunities in the Saudi market to promote the participation of all segments of society in the Kingdom's economy and prosperity.
Education for Employment is a non-profit organization working to generate economic opportunities for young people and empower them to build their capabilities, skills and support their professional and social growth.
Khuta Program Launched to Train and Empower Female Teachers and Graduates
Ofoq Association for Girls Development in the Eastern Province has launched its training program "Khuta" to support female teachers and fresh graduates in the education sector in an effort to increase job opportunities for women in this sector and support the educational process in private schools.
18 female teachers and graduates have participated in the distinguished program that provides them with comprehensive training along with specialized training courses and opportunities to gain skills through field applications.
The program spans over a period of 35 training days or 140 training hours. Participants will obtain an accredited certificate from an academic association. Participants benefit from the expertise and knowledge of selected specialized female trainers and from courses covering all areas of the profession held at Imam Abdulrahman bin Faisal University's Continued Education Center.
Khuta program places special emphasis on building the teacher's practical and theoretical teaching capabilities, from deepening their work ethics right down to how to effectively manage classes and apply active learning principles.
The Program seeks to empower trainees by providing them with the necessary skills to efficiently handle students and monitor their progress. Trainees will learn how to prepare, apply and evaluate lesson plans, as well as utilize modern digital tools. It will also broaden their knowledge of student growth characteristics in each school stage, and of the suitable teaching strategies for each learning objective.