Alturki Holding Celebrates Saudi National Day and the Year of Saudi Coffee
Oct 17, 2022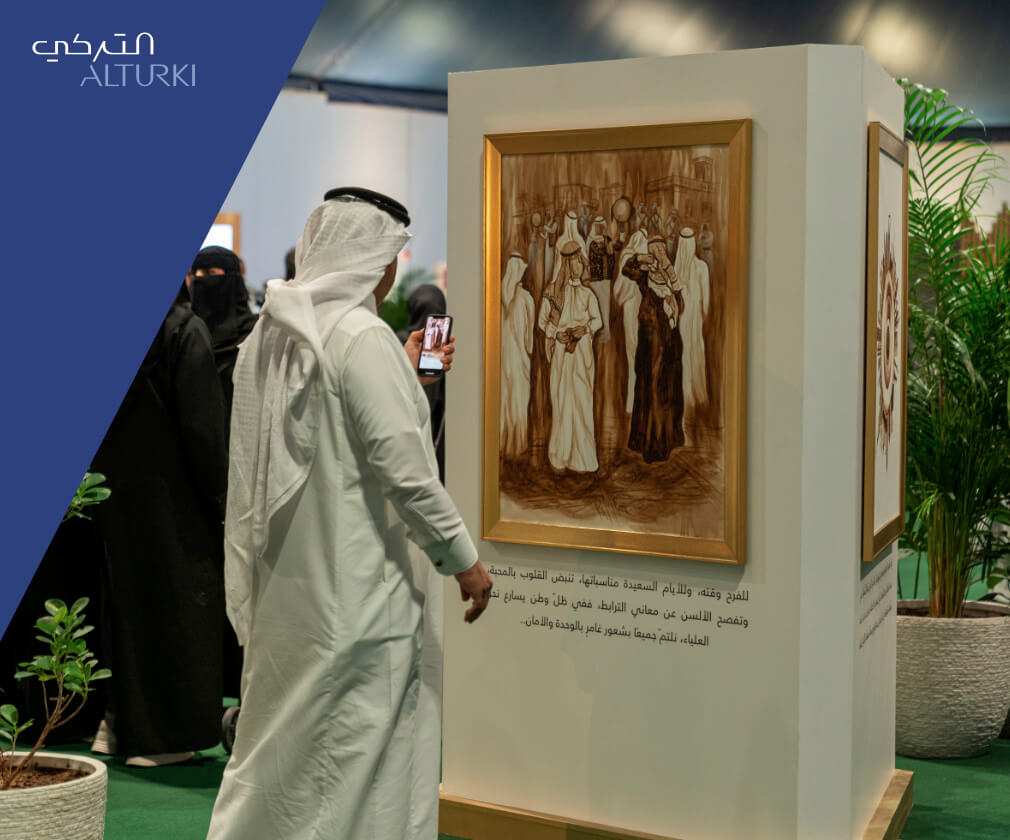 Alturki Holding Celebrates Saudi National Day and the Year of Saudi Coffee
Commemorating the 92nd Saudi National Day and the Year of Saudi Coffee, Alturki Holding hosted a lineup of fun events and activities aligned with the theme declared by the Ministry of Culture.
Throughout the month of September, the Holding's headquarters hosted an exhibition of paintings drawn using coffee, to reflect its importance as an element of the Kingdom's rich culture and history.
Alturki Holding hosted internal and external events, aiming to enable members of the local community to express their love and belonging to the Kingdom under the 6th edition of the initiative titled: "Masahat Watan", which is an annual collaborative initiative with Dahran Municipality to support Saudi Artists and showcase their work.
The internal festivities included live folklore songs and dances performed by a traditional Saudi band. Employees of Alturki Holding and other companies located in Alutrki Business Park were able to enjoy a fun session of painting on Saudi Coffee (Qahwa) cup molds.
For the external activities, 20 Saudi artists were invited to undergo mural painting training sessions under Masahat Watant, in collaboration between Dahran Municipality and Canvash.
Additionally, as part of its commitment to back major nationwide events and contributing to the realization of Saudi Vision 2030 goals, Alturki Holding joined participants of the Saudi Coffee Festival 2022 over the course of 6 days in Riyadh and Dhahran.
The festival took place in different locations, and was organized by the Ministry of Culture and Culinary Arts Commission as initiative of the Quality-of-Life Program. It seeks to take visitors on a journey to learn more about the history of coffee and how it is cultivated, prepared and the unique Saudi customs related to it.


Company Corporate Communications, Sustainability & Strategic Partnerships Director, Anas Aljuraifani commented: "Saudi National Day is always a great occasion to celebrate and feel proud of the achievements our Kingdom has realized. On this dear occasion to our hearts, we offer our sincerest congratulations to our wise leadership and our nation. We remain committed as ever in our pursuit to contribute to achieving Saudi Vision 2030 and 2060 goals, as well as sharing the love and pride with our local community."