Alturki Holding Hosts Information Session for Its Executive Team on the Saudi New Companies' Laws
Sep 14, 2023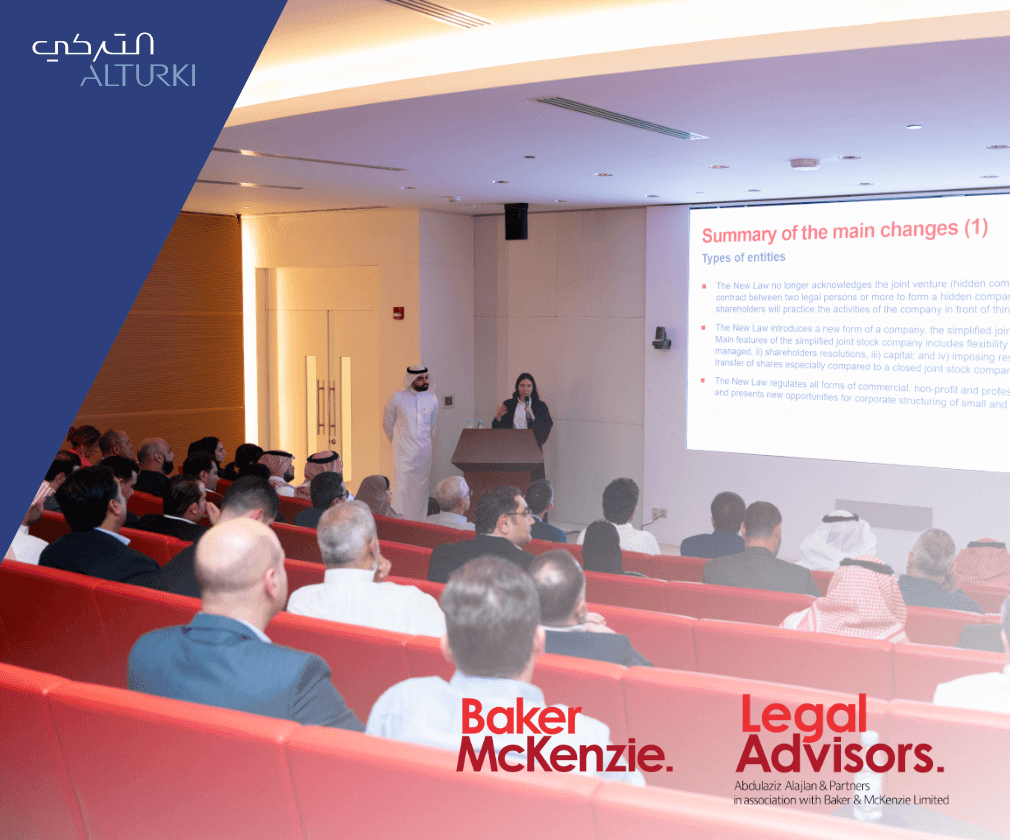 Alturki Holding, a leading investor in Saudi Arabia, recently organized an informative session regarding the Saudi New Companies' Laws, which came into effect in January 2023. The event, held on Wednesday, September 13th, witnessed the attendance of the executive team of Alturki Holding and its subsidiaries.
The information session aimed to provide a comprehensive overview of the implementation of the new laws. A team from the esteemed Legal Advisors, Abdulaziz Alajlan & Partners in association with Baker McKenzie Limited, renowned experts in corporate law, served as presenters for the session.
The event, which lasted from 2:00 PM to 5:00 PM, shed light on the applicability of the new laws to Alturki Holding and its subsidiaries' operations. Attendees gained valuable insights into the legal framework governing all businesses in the Kingdom, as well as the key provisions they need to consider in order to ensure compliance and leverage the opportunities presented by the recent law changes.
The information session was aligned with Alturki Holding's commitment to operational excellence, legal compliance, and effective corporate governance practices. Mr. Asim Almalik, VP/Chief Legal Officer of Alturki Holding, underscored its importance by mentioning, " The information session provided our executive team with the needed understanding of the updated legal framework and its impact on our operations. With the expertise of the Legal Advisors, Abdulaziz Alajlan & Partners, we are better equipped to ensure continued compliance and secure the sustainability of our companies.."
The session fostered an environment of knowledge-sharing and collaboration, allowing attendees to engage in meaningful discussions and exchange experiences with their peers. It provided a unique opportunity for participants to explore the intricacies of the new legal framework and align their strategies accordingly.
Alturki Holding reaffirms its commitment to excellence, ensuring that its executive team and subsidiaries remain at the forefront of legal compliance and best practices. By hosting events such as the recent information session, Alturki Holding continues to demonstrate its dedication to staying abreast of the latest developments in the business landscape and empowering its leaders to make informed decisions.