Alturki's Inma Pallets Company Gets Top Ranking on the Saudi Fast Growth (SFG) Companies List
Feb 05, 2012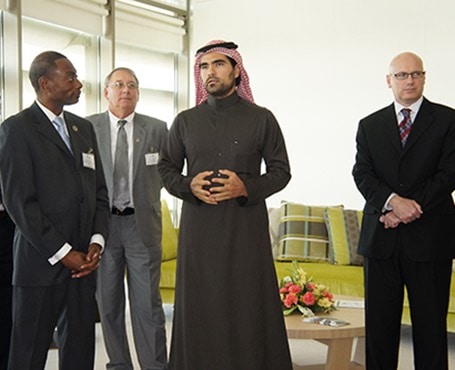 Inma Pallets Company, one of the Khalid Ali Alturki & Sons Company (Alturki) wholly-owned subsidiaries, celebrated its success after receiving top ranking on the Saudi Fast Growth (SFG) list of companies for 2011. Inma Pallets Co., one of the primary suppliers of industrial wooden pallets in Saudi Arabia, was ranked 17th in the SFG 100 list during the Global Competitiveness Forum held in Riyadh last month.
Inma Pallets was established in 1985 as a wholly-owned subsidiary of Alturki, one of the leading investment and development family companies in the Kingdom of Saudi Arabia. Inma Pallets operates factories in Jubail and Yanbu and manufactures a wide range of hardwood and softwood pallets for industry and export use as well as custom-made pallets to meet their clients' specific requirements.
According to Eng. Awad Al-Anazi, Managing Director of Inma Pallets Company, "we are extremely pleased to have received such high ranking in the SFG 100 list; this announcement stands testament to the Company's on-going contribution to the local economy and its continuous focus on growing and developing the business through product quality and innovation, reliable service and expert human capital".
"Over the years, we have worked hard to build a strong reputation in the market and we take pride in our diverse client portfolio; the Company's successful ranking is evidence of all our combined efforts and we couldn't be happier for this recognition. In terms of development and expansion of our business, we have now started to produce plastic pallets, providing all options possible for the customer to choose the appropriate pallet for his needs," continued Mr. Al-Anazi.
The Saudi Fast Growth (SFG) Companies Awards are an annual ranking of the fastest-growing companies in the Kingdom of Saudi Arabia and were founded by Saudi Arabian General Investment Authority (SAGIA), National Commercial Bank (NCB) and AlWatan newspaper in 2008. The SFG measures the growth of companies within the small-and-medium sized sector (SMEs) and awards them based on their impact on employment and their overall contribution to the Saudi economy. The SFG list also identifies the next generation of private-sector establishments that are capable of growing consistently through job creation and innovation.