Alturki Sponsors '1st Saudi Renewable Energy Conference & Exhibition'
May 05, 2012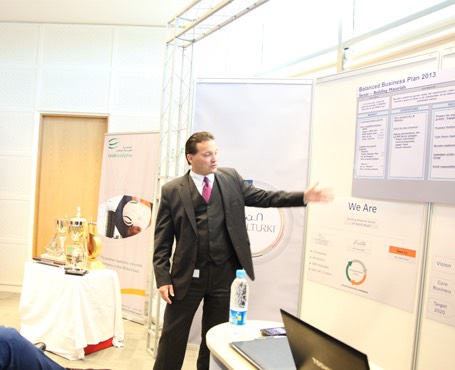 Khalid Ali Alturki & Sons Company (Alturki), one of the leading investment and development companies in the Kingdom of Saudi Arabia, was one of the main sponsors of the '1st Saudi Renewable Energy Conference & Exhibition' held at the King Fahad University of Petroleum and Minerals on the 19th and 20th of February 2012. Under the Patronage of the Custodian of the Two Holy Mosques King Abdullah bin Abdul-Aziz Al Saud, this event aimed to foster and promote knowledge exchange in the field of Renewable Energy.
The '1st Renewable Energy Conference & Exhibition' provided a great platform for local and international experts in the Renewable Energy sector to discuss and showcase the latest technology developments and innovations in this industry, share recent research findings, promote collaboration and long-term partnerships and encourage new investment opportunities for renewable energy in the Kingdom of Saudi Arabia.
Alturki's decision to sponsor the Conference is testament to the Company's commitment in continuously pursuing and boosting the Renewable Energy sector in Saudi Arabia and further supporting the efforts of the Government in shaping its strategy to reduce its dependence on fossil fuels and contribute to a cleaner environment.
According to Mr. Rami Alturki, President of Alturki, "our Company has always been at the forefront of new technologies related to improved energy efficiency and environmental advancements. Alturki's sponsorship of this event is fully aligned with the Company's long-term vision that will see us steadily increase our investment in the Renewable Energy sector in the next five years, form rewarding partnerships and joint ventures with multinationals in the industry and continue to encourage and assist the growth of local Renewable Energy projects in the Kingdom".
The main topics discussed during the '1st Renewable Energy Conference & Exhibition' included Solar Photovoltaic, Solar Thermal, Wind Energy, Biomass, Biofuels and Geothermal and experts from across the globe and within Saudi Arabia were given the floor in an effort to share their knowledge in these areas and further demonstrate the technologies available worldwide for improving energy production and efficiency.