Alturki Supports Ithra 'Alsharqiya Gets Creative' by Organizing a Series of Discussions at Prince Saud Bin Naif Park
Oct 30, 2021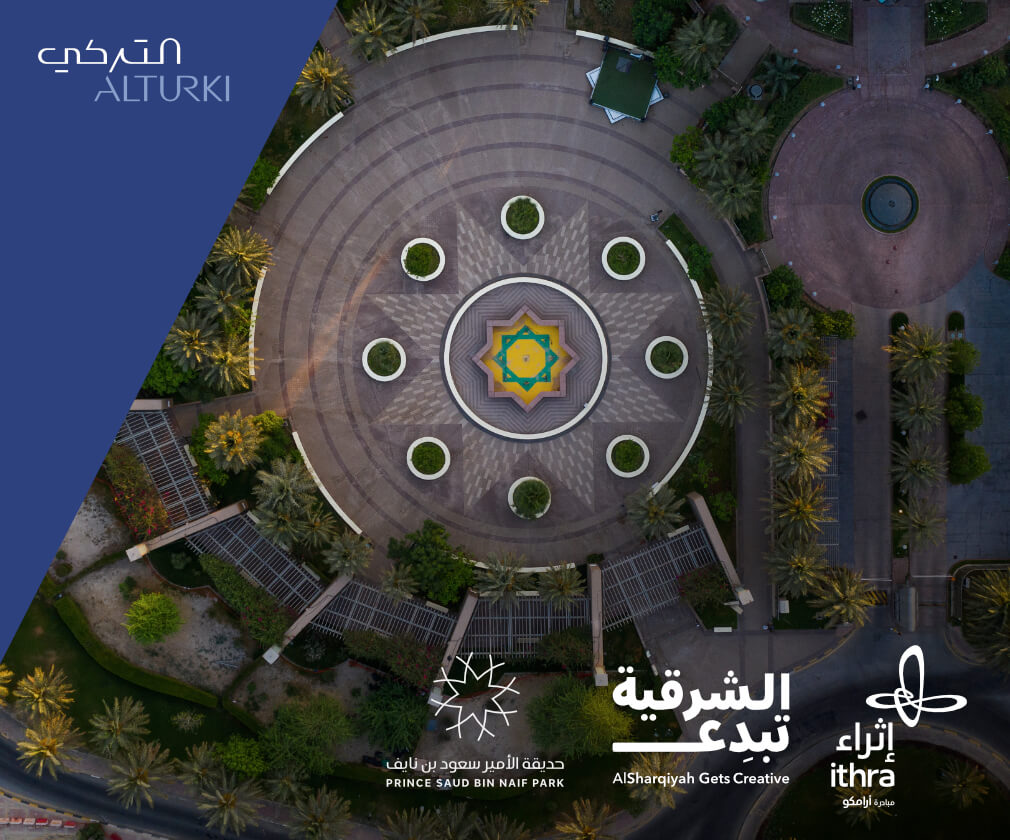 Prince Saud bin Naif Park to host a series of youth oriented creative activities and panel discussions from November 3rd to November 7th 2021, marking the duration of 'Alsharqiya Gets Creative'
Creativity is the language of this era. It is the dream that will allow the people of the Kingdom to shape the future with their own hands. Creativity being a vital pillar of the city, Ithra celebrates the creativity week, 'Alsharqiya Gets Creative', throughout the Kingdom's Eastern Region in conjunction with its creative conference, Tanween.
The annual community-based creative and cultural festival, scheduled to take place in Eastern Province from October 31 - November 7, 2021, aims to ignite the creative spirit of community members, while positioning the Eastern province as a destination of creativity in the Kingdom.
In alignment with its sustainability framework to sponsor education and innovation, Alturki Holding is supporting the event with extensive promotion through its official social media platform and activating the Prince Saud bin Naif Park at their headquarters with a series of exciting activities and panel discussions aimed at engaging professionals, creatives, intellectuals, and young groups seeking knowledge and networking opportunities.
The four-days panel discussions, with its broader theme: "How to Become Creative in all Fields?" will seek to explore the opportunities created by the creative economy, and how it acts as a vital source for economic transformation and social and economic progress. Having a dedicated theme for each day, the panel discussions will touch on relevant topics such as Entrepreneurship, sports, literature, and youth innovations among others, and feature eminent speakers and moderators from various fields, industries, and disciplines.
Talking about the planned activities, Anas Aljurifani, Corporate Communications, Sustainability and Strategic Partnerships Director، Alturki Holding said, "The goal is to create a safe and comfortable space for AlSharqiyah's youth community to come together and share their experiences, stories and expertise in a range of fields, while also creating a space for networking, showcasing and exchanging knowledge and inspirations, in line with the 'Alsharqiya Gets Creative' initiative. Creative minds from diverse sectors will participate in the event, each in their own unique way."
Noura Altamimi, Senior Corporate Communication and Sustainability Specialist, Alturki Holding, commented "As part of "Alsharqiyah Gets Creative" initiative, we are looking forward to creating an encouraging season for creative and talented people in the Eastern Province, which we are gladly working on in collaboration with a number of local entities and groups to create a hub for creativity, inspiration and exchange of experiences."
We extend our sincere gratitude to our partners, Dhahran Municipality, Prince Saud bin Naif Park, Alsharqia Chamber and Asharqia Young Businessmen Council, Ministry of Sport branch in Eastern Province, Shabab Mujtamie, Ketabei Reading Club, and Bike Khobar.
The program is open for the common public. Further information and the registration link can be accessed from the 'Alsharqiya Gets Creative' website.