Alturki Ventures Invests in Acoustic Data to Enable the Digitalisation & Optimisation of Subsurface Assets
May 24, 2022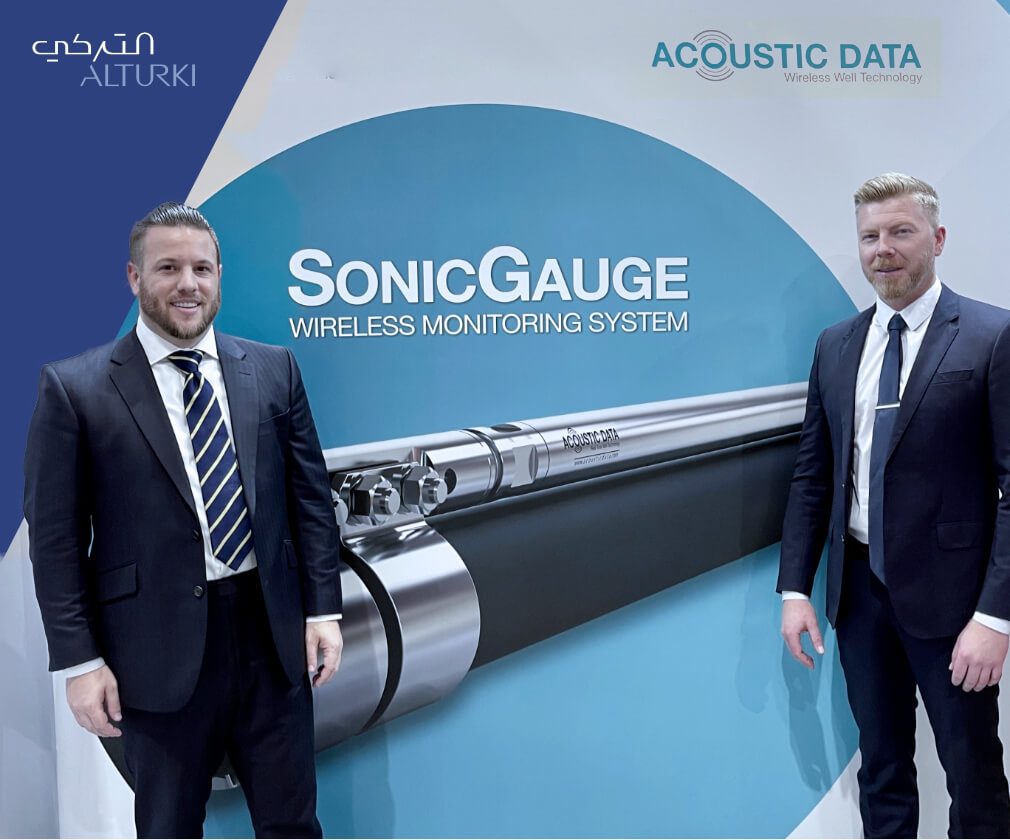 24th May 2022 | London, United Kingdom
Alturki Ventures, the venture capital arm of Saudi Arabian based Alturki Holding, has provided a significant growth capital investment in Acoustic Data, a U.K.-based global leader in wireless downhole technology. The investment will be used to scale global deployments of its retrofittable and cutting-edge acoustic telemetry solutions that deliver real-time data from downhole to desktop, enabling remote optimisation of oil and gas wells and subsurface energy storage.
"We are extremely excited about the growth potential that our investment provides Acoustic Data," said Rami Alturki, President & CEO, Alturki Holding. "It's a technology business with patented downhole solutions that will provide true in-Kingdom value and maximisation of oil and gas production for our customers."
Acoustic Data's SonicGauge™ is used throughout the entire lifecycle of a well, from drill stem testing surface readout and production optimisation to barrier integrity monitoring in plug and abandonment programmes. Its duplex SonicSync™ Command+Control Platform provides third-party downhole equipment providers with a communication system to remotely activate tools in intelligent completions and drill stem testing operations.
Jesse Tolley, Chief Commercial Officer of Acoustic Data, welcomed the deal: "Our team has deployed the SonicGauge in many global markets and applications from brownfield optimisation in Asia-Pacific to underground gas storage in Continental Europe. Alturki's capital, technical know-how, and growth mindset will allow Acoustic Data to capitalise on a substantial opportunity to instrument and digitalise Saudi Arabia's well stock."
"Acoustic Data's portfolio allows operators to apply a proven communication protocol across multiple disciplines," said Corey Campbell, Director of Operations at Sawafi, an Alturki Holding subsidiary. "We are excited to explore technology synergies and expect collaboration to bring new optimisation and control mechanisms to subsurface assets worldwide."
ENDS

About Alturki Ventures
Alturki Ventures is the Venture Capital arm of Alturki Holding, a leading investment and development holding company in the Kingdom of Saudi Arabia.
Strengthened by the vast resources, extensive network and reach of Alturki Holding, Alturki Ventures identifies, invests, and actively engages with companies and funds that are working with pioneering technologies to drive positive change. Alturki Ventures also identifies unique investment opportunities which can help them in their technology development and digital transformation journey.
Our team from across the portfolio then accelerate growth by helping scale businesses to new channels and customer segments. Alturki Ventures' growing portfolio in the Middle East, Europe and the Americas, is comprised of companies that are changing the way we work and live across technology sectors such as Upstream Oilfield Services, Healthcare, Logistics & Mobility, Education, Fintech and Security. They are empowering transformation in learning through AI and neuroscience, innovation in deep learning, digital health and synthetic biology, and applying machine learning to transform logistics, mobility & ecommerce for exceptional business and customer experiences. We are empowering transformation and building great businesses.

About Acoustic Data
Founded in 2012, Acoustic Data is a leading provider of real-time wireless downhole monitoring solutions headquartered in Woking, United Kingdom. The company's proprietary SonicGauge™ uses next-generation acoustic telemetry to transmit real-time downhole pressure, temperature and vibration data to surface. The technology has primarily been deployed for monitoring subsurface energy storage, hydrocarbon production, injection and observation wells, and verifying the integrity of downhole barriers.
The company is backed by Energy Growth Momentum, a London-based private equity fund, and Alturki Ventures, the venture capital arm of Saudi Arabian based Alturki Holding.