Applus-Velosi Eyes Other Sectors After Gains in Oil and Gas
Sep 07, 2020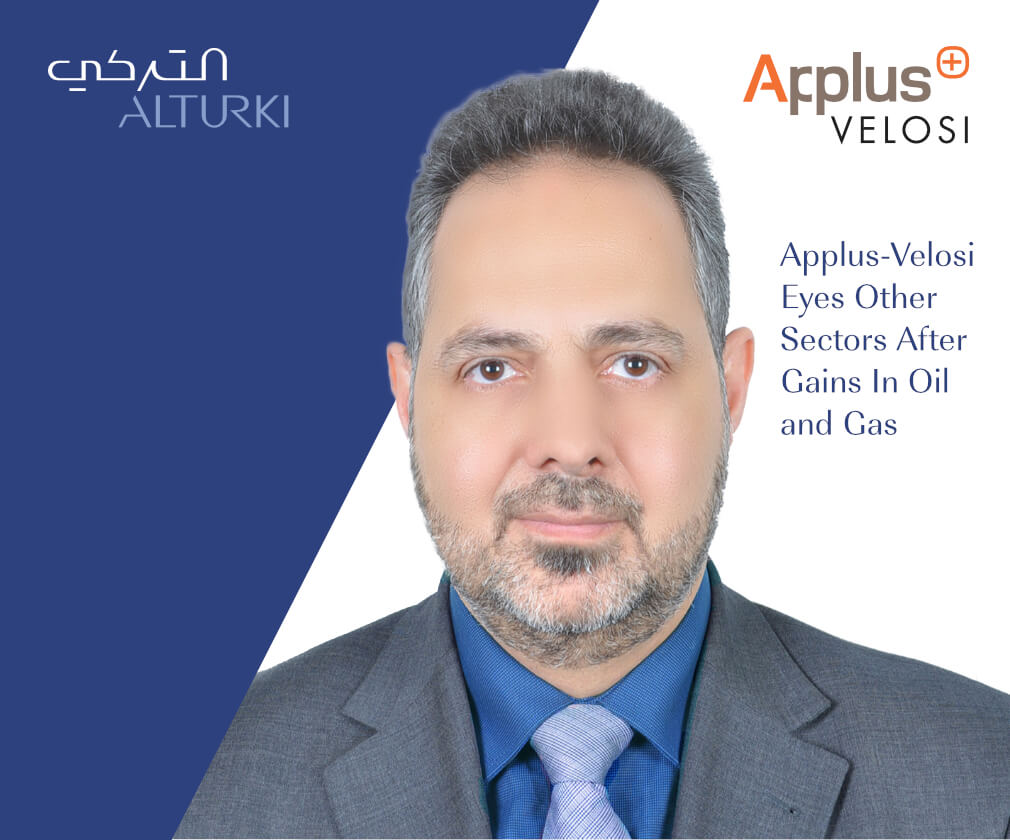 The company vows to work in line with Vision 2030 and diversify operations by adding new service lines and offerings to the market as it strengthens ties outside the oil and gas industry
Applus+ Velosi's commitment to the Kingdom of Saudi Arabia has grown immensely, as it continues to expand and diversify in sectors outside its traditionally focused oil and gas business.
At present, Applus+ Velosi (and the wider Applus+ Group) is involved in many projects outside the oil and gas industry, with a large number of its clients being major players in the mining, power, petrochemical, construction and renewable energy sector. Applus+ also works closely with municipalities and other government departments in Saudi Arabia.
'Over the next few years, we hope to diversify the business in Saudi Arabia even further as we align our operation with the Kingdom's Vision 2030. We hope to do this by forming strategic partnerships with key industry leaders and by introducing our wide range of innovative services and technologies to the Kingdom,' Hazem Zein, Country Manager, Applus+ Velosi in Saudi Arabia, tells Abdulaziz Khattak of OGN.
Applus+ is known the world over as a leading testing, inspection and certification company. In Saudi Arabia, the company has set out a long-term strategy, which is fully aligned with the Kingdom's Vision 2030 and iKTVA programmes.
A voluntary participant in the iKTVA programme, Applus+ Velosi had a score of 42 per cent in 2018, which is high for a company in the service sector. Over the past three years, it has tripled the number of employees across operations in Saudi Arabia. In addition, as part of its commitment to the career development of Saudi youth, over 100 of Applus+ Velosi's Saudi trainees have qualified as Aramco-approved inspectors. The company remains committed to Saudisation and hopes to reach a target of 70 per cent in this regard by the end of 2021.
A key highlight in recent years for Applus+ Velosi has been to see its business grow. This includes the diversification of service offerings beyond oil and gas.
Zein explains: 'Business has tripled since 2017 and we hope to continue to grow in the upcoming years. Of course, to do this we will need to diversify our current service offerings.'
Applus+ Velosi has added non-destructive testing (NDT), rigs commissioning and cold stacking, and ASME to its portfolio of services. The company recently obtained ISO17020 accreditation, and its lifting inspection & rig services team recently obtained Aramco approval for below the hook lifting gear inspection, rope access services, dropped object surveys, and fall protection surveys.
Over the last two years, it has opened two new offices in the country, in Jubail and Jeddah. This means that Applus+ Velosi now operates in Dammam, Jeddah, Riyadh and Jubail and hopes to establish offices in other major cities over the next few years.
Applus+ Velosi has developed a solid reputation in the market for service excellence. It designs customised solutions according to clients' needs and project requirements. Considering its wide range of onshore and offshore solutions, the company is currently involved in offshore projects in Saudi Arabia. Its teams are also working on refinery projects, petrochemical plants and strategic pipelines in the Kingdom.
Furthermore, technology within the Applus+ Group has developed immensely over the years, and this means the company can offer the latest, most advanced technologies to its clients. Applus+ has developed specialised technologies for the oil and gas industry with the focus in recent years being on NDT. In this regard, some key technologies include:
• DTI Trekscan: Applus+ DTI Trekscan is the first free-floating pipeline in-line inspection tool designed to traverse back-to-back one-dimensional (1D) bends, with an optimum speed of 1 meter per second. It can run in pipelines previously considered to be 'unscrapable'. Using the latest ultrasonic technology and high-density transducer-carrier design, most refined petroleum products, water and crude oils can be used as a medium to run this tool.
• PIT: The Applus+ Pipeline Inspection Tool (PIT) is a gravity moved, pumped or self-propelled cable operated system inspecting pipes from the inside. As it passes through the pipeline, attached to a reinforced umbilical cable, it takes measurements related to wall thickness and corrosion on both the inside and outside of the pipe. PIT can be equipped with crack detection and XYZ mapping and the tool can also be modified to enable safe passage past tees, valves, diameter changes and flexible pipe connections.
• IWEX: The recently introduced Applus+ Inverse Wave Extrapolation (IWEX) technology is a full matrix capture (FMC) technique using ultrasonic (UT) inspection, in which individual A-scans are recorded for each and every element of an array transducer. These A-scans are processed in a similar way to seismic processing and medical imaging. Its enhanced sizing and discrimination also allow the client to leave certain flaws in place without a field repair. Ultimately, this results in cost saving, reduced downtime and enhanced productivity. The portable IWEX system is currently being developed.
FACING COVID-19
'The global Covid-19 pandemic brought about many challenges, but it has also taught us the value of teamwork and the importance of working together to achieve a common goal. I am very proud to work with a dynamic and strong-willed team, who together implemented a strategy that will not only see us through the uncertainty of Covid-19, but one that will ensure that we come out stronger on the other side,' says Zein.
An initial challenge was remote working, which brought face-to-face training for Saudi nationals to a halt. Applus+ Velosi's teams raced against the clock to develop an Aramco-approved online learning system for its Saudi trainees thus ensuring that learning continued and that trainees were still able to qualify as Aramco-approved inspectors on time.
To adjust to the 'new normal', Applus+ Velosi didn't need to look far. Zein says: 'Thankfully, Applus+ already offers innovative solutions to the market, so we used our advanced automation tools and remote inspection techniques to adjust to the 'new normal'.
'We used webinars to ensure that we kept our clients informed about our latest service offerings, and this was a great way to connect our customer with the subject matter expert. Our ASME services were conducted remotely as well.'
About the future of business in Saudi Arabia, Zein says: 'Although there will be challenges in the lead up to 2021 due to budget cuts by some of our major clients, we believe this is the perfect opportunity to further develop our offerings to industries apart from oil and gas.'
In 2021, Applus+ Velosi will continue to support its customers by offering the high quality of service it is renowned for, he adds.
Zein concludes: 'As a team, we will continue to work toward business growth in Saudi Arabia and to diversify operations by adding new service lines and offerings to the market. In addition, we aim to strengthen our ties with companies outside the oil and gas industry, as we continue to strive toward the Kingdom's Vision 2030.'
Applus+ Velosi in Saudi Arabia is part of the Applus+ Group, which operates in more than 70 countries around the world. In the Middle East, it operates and has offices in Saudi Arabia, Bahrain, Kuwait, Qatar, UAE and Oman. The group continues to grow organically and through M&A opportunities.
Source: Oil and Gas News