Marriott launches Tahseen training programme in Saudi Arabia
Dec 13, 2016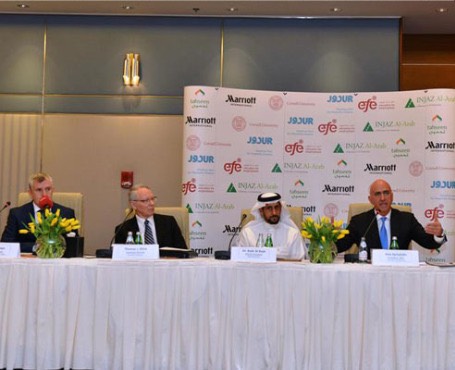 Marriott International, in co-operation with DUR Hospitality, has launched its Tahseen hospitality training programme in Saudi Arabia.
The announcement was made at a press conference today and was attended by Dr. Badr Al Badr, CEO and president, DUR Hospitality; Thomas Kline, executive director of Executive Education, Cornell University; and Nickolas Neibauer, chief development officer, INJAZ Al-Arab.
Alex Kyriakidis, president and managing director, Middle East and Africa, Marriott International, said: "Tahseen gives Marriott International the opportunity to create a paradigm shift in the perception of hospitality among Saudi nationals. It responds to strong demand in the market for Saudi talent by showcasing careers in hospitality to the next generation of hoteliers, benefiting both Arab youth as well as the industry."  
Developed in conjunction with key owner and partner DUR Hospitality as well as Cornell University, INJAZ AL-Arab and Education for Employment, Tahseen is launched for Saudi Nationals and provides a 12 to 18-month programme focused on providing full exposure to the business of running a hotel resulting in a managerial opportunity. The program offers graduates six months of cross-exposure to all departments and six to 12 months of departmental specialisation. It also provides graduates access to Marriott International's world renowned core management development programmes.  
Open to Saudi University graduates, the hotel operator will initially appoint 50 Saudi Nationals, with both the experience and desire to work and develop a career in the hospitality industry.  Over the duration of the program, graduates will be fully immersed into all aspects of the business and enroll in E-Cornell certificate programs, combined with Cornell University's executive leadership workshop delivered in the country, which will be tailored to the local culture and unique business environment of Saudi Arabia and the wider Middle East.  Education for Employment will also train the selected class of professionals on what it takes to be successful in the workplace.  
Tahseen hospitality training program aims to the drive participation and interest of Arab youth through Marriott International's world-class training, resulting in an increase of local Arab employment on the property.  The program is customised for local Arab and will provide them with well-rounded hospitality training while opening doors to a variety of career path options.
"Marriott International has long been focused on developing talent in the markets in which we operate and empowering diversity has always been critical to our business model.  We constantly seek out initiatives across our region that are both inspiration and results-orientated. Through our close collaboration with DUR Hospitality, we aim to help nurture the dreams and aspirations of young Saudi Nationals and support the rapid growth the hospitality sector is forecast to sustain over the years."
Recruitment for Tahseen will commence in February 2017 and will initially welcome 50 graduates with the objective to increase numbers annually. – TradeArebia News Service