Rami Alturki is The First Arab and Saudi to Join The Ranks of The Knights of Rizal
Oct 20, 2015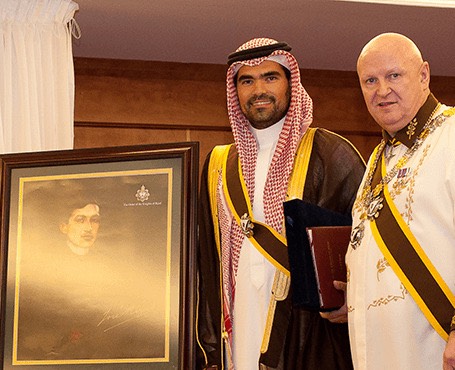 During a very fitting ceremony held in Ramada Palace Hotel in Bahrain on September 21st 2015, The Knights of Rizal, a civic, patriotic and cultural, non-sectarian, non-partisan and non-profit organization awarded our CEO, Sir Rami Alturki the honorary membership with the 4th degree Rank of Knight Grand Officer of Rizal (KGOR). The Knights of Rizal is chartered under Philippine Republic Act 646 and is the only organization that is mandated to propagate the life and works of the Philippine National Hero, Dr Jose P. Rizal.
A delegation from Manila arrived in Bahrain headed by Sir Jeremias C. Singson, KGCR Supreme Commander and Sir Jesus B. David, KGCR Past Supreme Commander and Member of the Council of Leaders in Manila. Attending the ceremony were Sir Peter P. Pluckebaum, KGOR Deputy Supreme Exchequer and Overseas Representative to the Supreme Commander who also arrived from Bonn Germany, Sir Zane M. Thirlwall, KGOR Regional Commander Middle East & Africa Region with his delegation of Knights of Rizal from Saudi Arabia and Bahrain. Sir Rami was accompanied by Mr. Khalid Alturki and Mrs. Sally Alturki.
During the ceremony Sir Jesus B. David, KGOR commended regarding Sir Rami on his activities to propagate the same principles of the national hero Dr Jose P. Rizal, in believing in transparency and good governance as an essential part of everyday aspects of business, most importantly that Sir Rami oversees that his staff do what they say, and deliver on their promises. Sir Rami's business and personal attitude includes all of what the national hero expected of an individual. His Filipino employees are all positive in their business approach; this is a clear indication of his personal role and personal contact with his employees.
Sir Rami is the first Arab and Saudi to join the ranks of The Knights of Rizal, The Knights of Rizal exert all efforts to support the youth in setting good examples, ethics and moral code of conduct. Following the ceremony the Knights of Rizal conducted its 13th MEAR Rizal Inter-school Academic, Talent and Skills Competition between schools in the Gulf Region, 7 schools attended the event from Riyadh, Khobar, Bahrain, Qatar and Oman.
Sir Rami is a keen supporter of the youth and his outstanding activities in the region prompted The Knights of Rizal to recognize his devotion to supporting communities of all races and thus awarded the 4th Degree Rank of Knight Officer of Rizal to our CEO.