Responding to the Covid-19 Crisis
May 07, 2020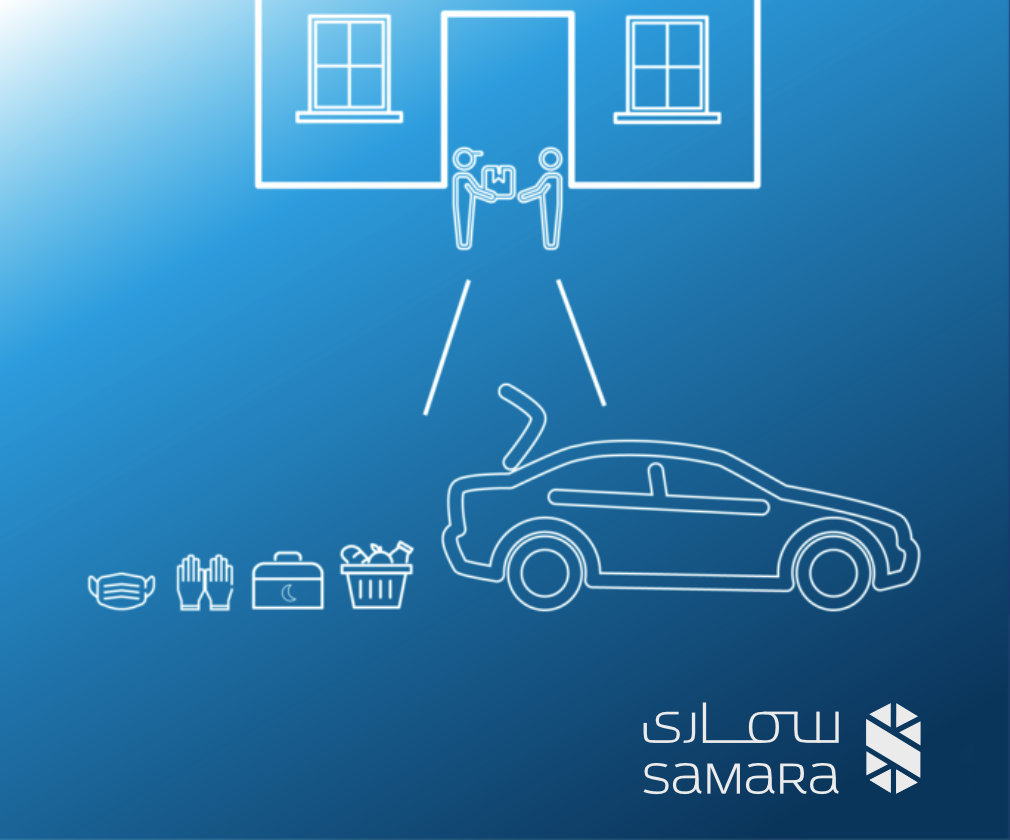 Interview with Husam Abuamer – Managing Director
As the Covid-19 crisis causes some companies to retrench and lay low, others have grasped the challenge and turned the situation into an opportunity to pivot their business and keep their employees engaged and occupied. Samara Land Transportation Services faced having to lay up its fleet and drivers, but Husam Abuamer, its Managing Director, instead found new outlets to keep the company – and its employees – moving.
The Corona crisis has forced change on everybody. Travel has ceased; people are not leaving their homes. We responded by building a Covid-19 "war team". We brainstormed and initiated aggressive measures to take advantage of the change in customer behaviour. This meant that it took us days rather than weeks to reverse the negative impact of the disease to become positive for Samara.
People in this country still need to buy food and they still need to get medicines. What better way to keep our company operational and healthy than to follow the demand of what the community was requesting.
This is why have repurposed our fleet into delivery vehicles for groceries and our people into roles that fulfil orders. You don't need a van to deliver groceries – you can use any sedan vehicle or SUV just like when you go shopping for your home. We approached the large supermarket groups as we understood from our homework that they don't have the logistical operations to deliver. Because of the structure of our services and the tools that we have, we offered them a solution. We demonstrated to them that with our sanitised vehicles, we can deliver their goods safely and efficiently. The supermarket management were impressed by our ability to provide a delivery service in such a rapid timeframe.
Our staff have retrained to become angles – they receive a customer's order, go into the store, pick the groceries, assure orders for clients and process them to the driver. Customers who were used to receiving their goods three or four days after ordering them are now getting them within a few hours.
This delivery model was extended to three large supermarket groups, including Altamimi market, Lulu, and Magathi application. Customers would reserve stock through the supermarket's portal and we would use our call centre staff to contact them and say "Your groceries are ready – would you like us to deliver them?" This model was new to them and at first they were hesitant, but because we offered such a speedy service at a low cost, but after they tried it once or twice they then became our customers.
In this way we were able to build our own database. The deal that we struck with the supermarkets allowed the customer data to become ours. This then allowed us to build our own portal – SamaraCart. Now we can push out notifications and we plan to offer more services on the portal. For example, we are working with one of the big pharmacy "Aldawaa" to deliver medicine and we are also looking to sign up with others pharmacies. We now have chiller vans for this purpose and having them means that we can look at other outlets such as butchers so we can deliver fresh meat. We don't just deliver goods though – doctors also need to be transported in sanitised vehicles, to other hospitals or to patients' homes.
The safety aspect is extremely important. All our vehicles are sanitised and our drivers are trained in how to interact safely with customers. They are also issued with gloves and masks so that the public face of our fleet appears safe.
It's amazing how this delivery business has taken off. Sure, there are already companies but their efficiency is not as fast as ours. When you order goods through them it can take three or four days: with us, it's delivered in hours.
I originally only sought to make sure that our fleet and people were utilised, and hoped to just cover our costs. I wasn't even thinking about profits. Then revenues were generated and margins built up.
More important, though, is what this pivot means for our people. All our workers are employed, even though they are being employed in a different way. This means that everyone in the company is engaged and the company culture is still strong.
We have to think long-term. Corona came to us so fast, and maybe it will leave just as quickly. If we laid people off because of the circumstances, that does not help us in the future – we would find ourselves trying to run on empty. We have to show our people that they are valuable to us. In other words, tell them "I know your role has stopped but I found you another role. I'll support you and make sure your job is secure."
This is also a way of demonstrating to the wider world that our company is moving and that we take our role as being part of the community very seriously. One community task that we undertook was to approach the police and offer to sanitise their cars free of charge. In this way we showed appreciation and demonstrated that we are here to serve the community and keep Saudi moving.
This commitment to community works in another way too. While we look at developing these new business models it is also important to sustain our previous business and look after our longstanding customers.
We have had long and fruitful relationships with companies such as Aramco, Home Centre and many clients in the oil and gas and construction sectors. They are all feeling the impact of the current crisis and it is important that we pull together to get through this. You always need to keep your customers next to you.
We are doing this by maintaining solid and close communications with them. I and my team make regular one-to-one calls to our customers, as well as issuing frequent emails and updates. We are in constant contact offering our support and helping in practical ways, like delivering goods and packages. Some customers told us they needed discounts at this time and we worked with them to come up with flexible solutions.
We impressed our clients on what we have logistical support as well as operational experience and told them that we could help them utilise our drivers and equipment. The relationship we have with them has strengthened and grown and we have shown them and our other customers that Samara is not just a limo company – it's a company that really serves the community.
By optimising our logistic solutions and adapting new technology to serve the community, our core values and standards remain intact.