Sawafi Borets Participates in the fifth SPE Middle East Artificial Lift Conference and Exhibition as Official Sponsor
Oct 27, 2022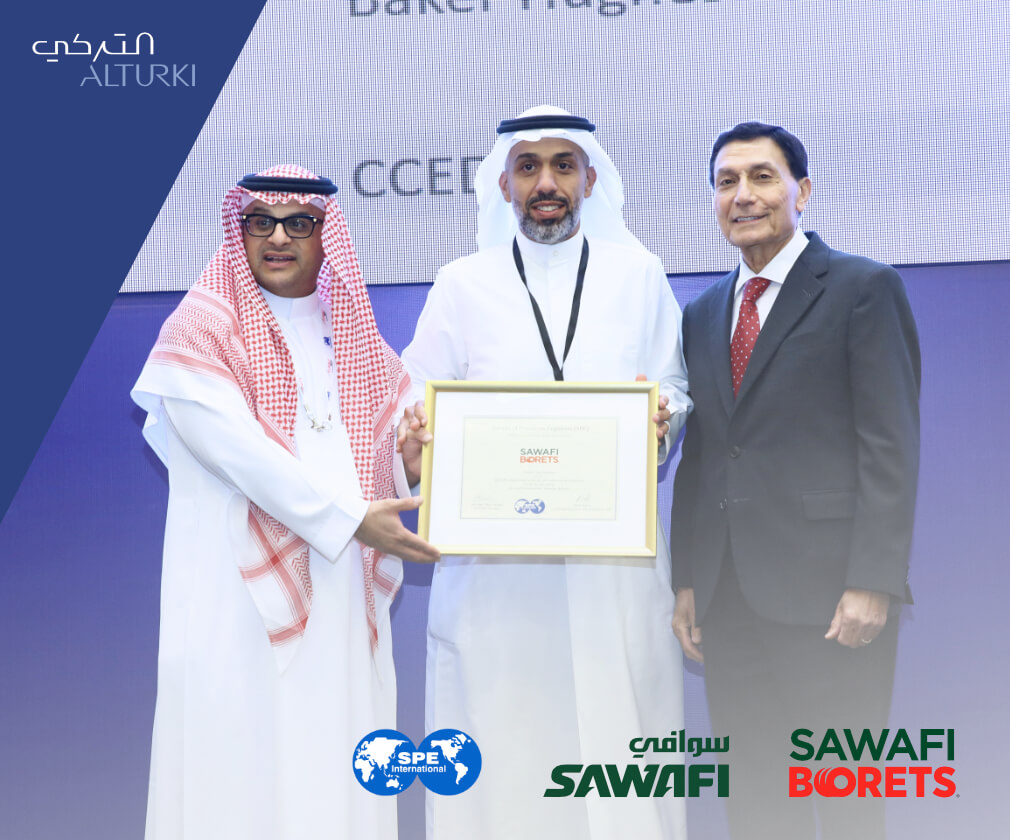 OCT 27, 2022 | Alkhobar
Sawafi Borets, our specialized ESP (Electric Submersible Pump) systems JV between Sawafi Aljazeera and Borets, participated in the 5th edition of the Middle East Artificial Lift Conference and Exhibition (MEAL), organized in Manama, Bahrain on October 25, 26, 2022.
Participating as the official event sponsor, the company showcased its efficient, eco-friendly technologies at the conference, while providing a glimpse into its successful track record of serving clients in alignment with the Kingdom's Net-Zero aspirations and Aramco's carbon mission reduction plans.
Organized by the Society of Petroleum Engineers (SPE), the conference was themed 'Make It REAL (Reliable and Efficient Artificial Lift)' and discussed the latest technological developments and evolving challenges in the field, bringing together artificial lift experts from across the world.
The industry's subject matter experts, leaders and professionals exchanged knowledge and perspectives on the latest artificial lift reliability and efficiency advancements at the conference, with the aim to elevate the global standards of artificial lift.
Speaking at the conference, Mr. Talal Al Binali, General Director, Sawafi Borets noted, "With the critical importance of artificial lift in promoting upstream production sustainability, we are driven to play a key role in supporting the enhancement of the reliability and efficiency of the Kingdom's oil & gas sector through our industry leading technology and advanced capabilities."
He added, Sawafi Borets was working in close collaboration of leading regional and global operators such as Aramco to attain a REAL eco-system.
Through its state-of-the-art manufacturing facility at SPARK, the company is serving Saudi Aramco ESP installations, testing all the equipment such as pumps, motor, motor seals, motor lead cables (MLE) and power cables among others. The company is also performing Dismantling, Inspection and Failure Analysis (DIFA) for the Saudi Aramco and Khafji Joint Operations (KJO) pulled ESPs.
Sawafi MD and Chairman of Sawafi Borets, Mr. Tarek Kachouri emphasized that the Sawafi Borets joint venture was created in alignment with Aramco's value localization initiative IKTVA, to facilitate transfer and localization of the Artificial lift technology in the Kingdom.
"Technology localization and knowledge transfer forms the very core of our founding principle. Localizing Artificial Lift technology in the Kingdom, we serve our clients by manufacturing, testing, and servicing all ESP equipment in our advanced manufacturing and service facility at SPARK," said Mr. Tarek.
He further added the company's long-term vision is to locally provide all services and products required in the Saudi artificial lift industry, thus contributing to the Kingdom's vision of value localization and self-dependency.
Mr. Talal said the company strives to accelerate the Kingdom's energy transition, acting strategically in alignment with Vision 2030, and the Net-Zero aspiration. "We consistently work towards improving our framework and services, expanding our digital transformation, to support the Kingdom's energy transition, while empowering society and environment, and increasing local talent participation in our workforce," he said.
The company's localization efforts also encompass facilitating economic diversification and supporting development of people in the Kingdom. Saudization being a high priority, Sawafi Borets currently has a Saudization rate of over 60%.
Ever since inception, the company's hiring strategy has been focused on attracting, developing, and retaining potential local talents. As a result, most of the job roles on all levels, are occupied by Saudis.
About SPE
The Society of Petroleum Engineers (SPE) is a not-for-profit professional association, with 124,800 members in 134 countries. Engaged in oil and gas exploration and production the world over, SPE is considered a key resource for technical knowledge providing opportunities for information exchange and dissemination through in-person and online events, as well as training courses, publications, and other resources.