Third Annual Masahat Watan National Day Event
Sep 26, 2018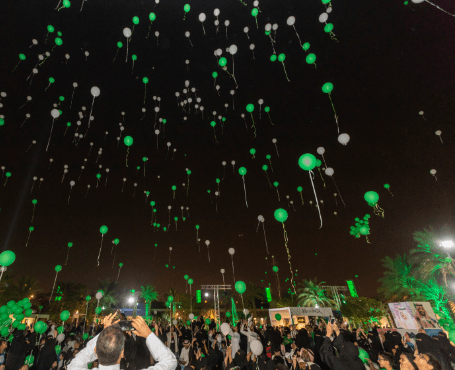 In spirit of celebrating the Kingdom's 88th National Day, Alturki Holding held its annual event "Masahat Watan" for the third year in a row at the Prince Saud bin Naif Park in Dhahran, and featured the work of the Saudi Youth in the region, in addition to fun entertaining activities for four days starting September 20th to the 23rd.
Visitors gathered at the park to check out the artistic and literary talents, stimulating and enriching talks from inspiring Saudi entrepreneurs, as well as an exhibition of the most impactful achievements the country and its people have had during the past year. Adding onto the four-day event, was a special area for children where young artists were able to learn from workshops using both traditional and technological art methods to express their love of Saudi.
The event had over 4500 visitors over the span of four days, the last day of Masahat Watan ended with a silent movie screening of Joud, the first Saudi feature produced by the King Abdulaziz Center for World Culture and a gesture of love by the crowd where they released 700 green and white balloons into the air.