Toastmasters Division F contest a rousing success
Apr 17, 2016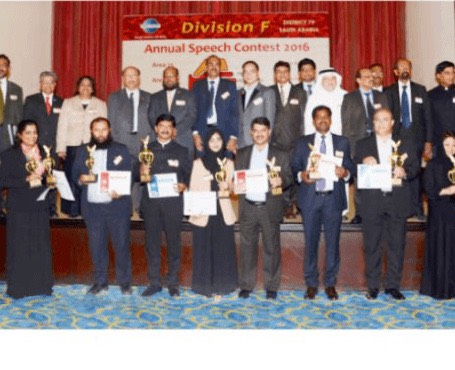 AL KHOBAR – In a pleasant ambience, members of Toastmasters fraternity gathered at Sofitel Hotel here to witness the Division F Annual Speech Contest. The event was a grand success and set a high standard in terms of its meticulous planning with the contest theme: Engage, Encourage, Empower.
DTM Alex Philip, Division F director, welcomed the gathering and thanked the contest organizing committee for their efforts. He expressed his gratitude to the sponsors for their support. He also thanked the members in completing their speeches and leadership projects and bringing more members to their respective Clubs, which helped Division F as one of the leading Divisions of Toastmasters 17 Divisions in Saudi Arabia.
DTM Abdulrazak Ali Alturki, a key advisor of District 79 and Managing Director of Namma Cargo Services, was the Chief Guest of this event. Other dignitaries included District 79 Director DTM Abdullah Al Sharif, Program Quality Director DTM Rashid Ali and Club Growth Director DTM James Taruc. The dignitaries addressed the gathering and inspired the audience highlighting the importance of Toastmasters, its benefits and the need to convey the message of Toastmasters to the community to bring more members to the clubs and open new clubs so that more members can learn the art of better communication and leadership.
The Keynote Speaker TM Abdullah Al Abandi from Saudi Aramco, an eminent motivational speaker, delivered a speech about Power of Connecting. He informed the audience about the techniques to effectively connect the audience and how to deliver a powerful speech that would inspire the audience.
The contest commenced with International Speech contest. This was a 5 to 7 minutes speech delivered on a topic of speaker's choice devoid of sex, religion or politics. Eight speakers from four areas enthralled the audience with their inspirational and thought provoking speeches. TM Palani Kumar of Harmony Toastmasters Club bagged the first place in the International speech while TM Juveria Khan of Horizon Toastmasters Club and TM Syed Mansoor Shah of Urdu Toastmasters Club won the second and the third place respectively. The first place winner TM Palani Kumar will represent Division F at SATAC 2016 to be held at Sheraton Hotel Dammam from April 21-23.
The first place winner of International Speech contest from SATAC 2016 will represent District 79 at Toastmasters International Convention to be held on Aug. 17-20 in Washington DC, USA. The winner of International Convention will be termed as the World Champion of Public Speaking. In 2015 TM Mohammad Al Qahtani, an engineer working at Saudi Aramco and a member of Dhahran Toastmasters Club, became the World Champion of Public Speaking.
Evaluations Speech Contest was attempted by eight contestants preceded by a test speech delivered by TM Madani Khan. The contestants evaluated the speech delivered by the test speaker. TM Dr. Maheshwaran Balaraman of Alturki Toastmasters Club won first place, while TM Rekha Rajesh Shetty of Phoenix Masa Toastmasters Club and TM Ramamoorthy Palanivel of Tamil Toastmasters Club won the second and the third place respectively.
Table Topic Speech Contest was another interesting Contest where the contestants had to deliver an impromptu speech for 1 to 2 minutes on a topic given on the spot. The first place of this contest was bagged by TM Atiya Firdous of Alturki Toastmasters Club while the second and third place winners were TM Rekha Rejesh Shetty of Phoenix MASA Toastmasters Club and TM Toufiq Chawdhury from Abdullah Fouad Toastmasters Club.
The Humorous Speech contest was also contested by eight contestants. Each contestant delivered a 5 to 7 minutes speech, TM Redwan Amin Hameed of Alturki Toastmasters Club was the first place winner followed by TM Mohammed Anasuddin from Urdu Toastmasters Club and TM Narendra Shetty from Phoenix Masa Toastmasters Club as the second and third place winners respectively.
DTM Jacob Kuriakose and TM Naseem Shehri were the chief judges for this contest.
Contest Operations was headed by DTM Abraham Thomas of Cosmos Toastmasters Club. The Contest Chair for the event was TM Ziya ur Rahman Siddiqui of Urdu Toastmasters Club who was assisted by 4 Contest Masters: TM Uma Venkat, TM Venugopal Padmavilas, TM Sunil Puthran and TM Johnson Thomas.
TM Jacob Mathew designed and delivered the contest magazine to all the attendees. The magazine contained messages from the dignitaries and officials, articles from various toastmasters, photo gallery and children's artworks.
TM Mohammad Saleem, Division F Administration Manager opened the meeting, TM Binu P Baby, Division F Assistant Director – Club Growth conducted the Banner Parade and DTM Vasudeva Warrier, Division F Advisor proposed the Vote of Thanks.
Division F Toastmasters Community consists of 19 Clubs which includes 9 Corporate Clubs, 10 Community including 4 language Clubs – Malayalam, Tamil, Kannada and Urdu and 3 Gavel Clubs, spread over 4 Areas; Area 25 headed by TM Prakash Palakkadvath as Area Director having 5 Clubs under his leadership; Area 31 headed by TM Hyder Ali Shoukath as Area Director with 5 Clubs under his leadership, Area 60 headed by TM Ravi Karkera as Area Director having 5 Clubs under his leadership and Area 61, the new born Area under Division F, headed by Area Director TM Mohammad Safiullah having 4 Clubs under his leadership.