Signing Ceremony of MOU Between Saudi Readymix Concrete Company and Masdar Building Materials Company
Apr 02, 2019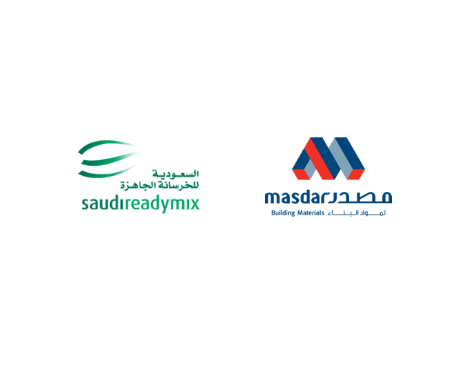 About Saudi Readymix:
Saudi Readymix Concrete Co. is the leading producer and supplier of ready-mixed concrete and related products in Saudi Arabia. It was established in 1978 and is a wholly-owned subsidiary of Khalid Ali Alturki & Sons Holding Company (Alturki Holding), a leading industrial conglomerate.
Saudi Readymix employs a workforce of about 2,400 people and operates 33 commercial and 20 on-site factories strategically distributed throughout the Kingdom covering the major metropolitan areas in the eastern, central, western, northern and southern regions. The company had worked on an impressive array of prestigious projects for both the public and the private sectors. Most of the company's factories are officially approved as suppliers to major governmental and industrial authorities, such as Saudi Aramco, SEC, SABIC, Royal Commission, MoDA, Maaden, MOI, to name a few.
About Masdar Building Materials:
Masdar Building Materials is the best example of Al-Muhaidib Group's capability to realise its strategy of launching and managing major entities. The company›s activities have impressively grown to include the retail trade of rebar steel, steel, timber, core electrical, core plumbing and related building material items such as construction materials, tools, gadgets and ready mixed concrete. 2017 has witnessed the ownership of more than 50 stores distributed in all five major regions in Saudi Arabia, all under the brand name «Masdar Building Materials». Such unique geographical coverage helped them to reach all customers segments such as: real estate, home, workshops and factories owners. The company also has 3 main warehouses near the ports where the products are directly sold.
About this Memorandum of Understanding (MOU):
Saudi Readymix is signing a memorandum of understanding with MASDAR Building Materials, a subsidiary of Al Muhaidib Group. The cooperation agreement between Saudi Readymix and MASDAR aims to provide the retail sector with a unique experience offering Saudi Readymix's most extensive range of readymix supply, through MASDAR's significant distribution network and retail outlets. Masdar's main activities revolve around selling building materials explicitly concrete steel, commercial steel, timber & timber products, and insulation materials.
The MoU signed today with MASDAR building Materials is a great achievement that will make ordering customers dream home from Masdar a 1 stop shop. The Memorandum of Understanding paves the way for both companies through a harmonious system of cooperation to exclusively supply Saudi Readymix products and services through MASDAR's retail stores and services, thus, to ensure higher quality and regular productivity that will benefit the retail sector.